34th Boxing Day Swim
A HUGE THANK YOU!!!
We are delighted to announce the final total of the 2019 Burghead Boxing Day Swim is £12000.
This is a brilliant amount and we are very grateful to the public for being so generous, local businesses who donated amazing raffles, our three charities, amazing volunteers who helped with many important tasks and last but not least, our amazing Swimmers. We simply could not have done it without you all. Thank you also to Gleaners Oil Elgin for a very kind donation of £400. Please see below for how the money was split, we hope to see you all again this year depending on how the Covid situation progresses.
BURGHEAD SUB AQUA CLUB - £3500
KEIRANS LEGACY - £3500
MARIE CURIE - £5000
33rd Boxing Day Swim
A HUGE THANK YOU!!!
We are delighted to announce that the 2018 Boxing Day Swim raised an incredible £21,500!
This was much more than originally thought and thanks must go to all of our brave Swimmers, the public for coming to watch and donate, local businesses and of course our three amazing beneficiaries. We would like to also make a special mention for the very genrous last minute donation of £2000 which took us over the £20,000 mark. We believe this is the second highest total in the Swims history, so thank you from us all!
We decided to split the money as follows:
ABBIE'S SPARKLE FOUNDATION - £15,500
BURGHEAD PARENT AND TODDLERS - £3000
BURGHEAD COASTAL ROWING CLUB - £3000
A HUGE THANK YOU!!!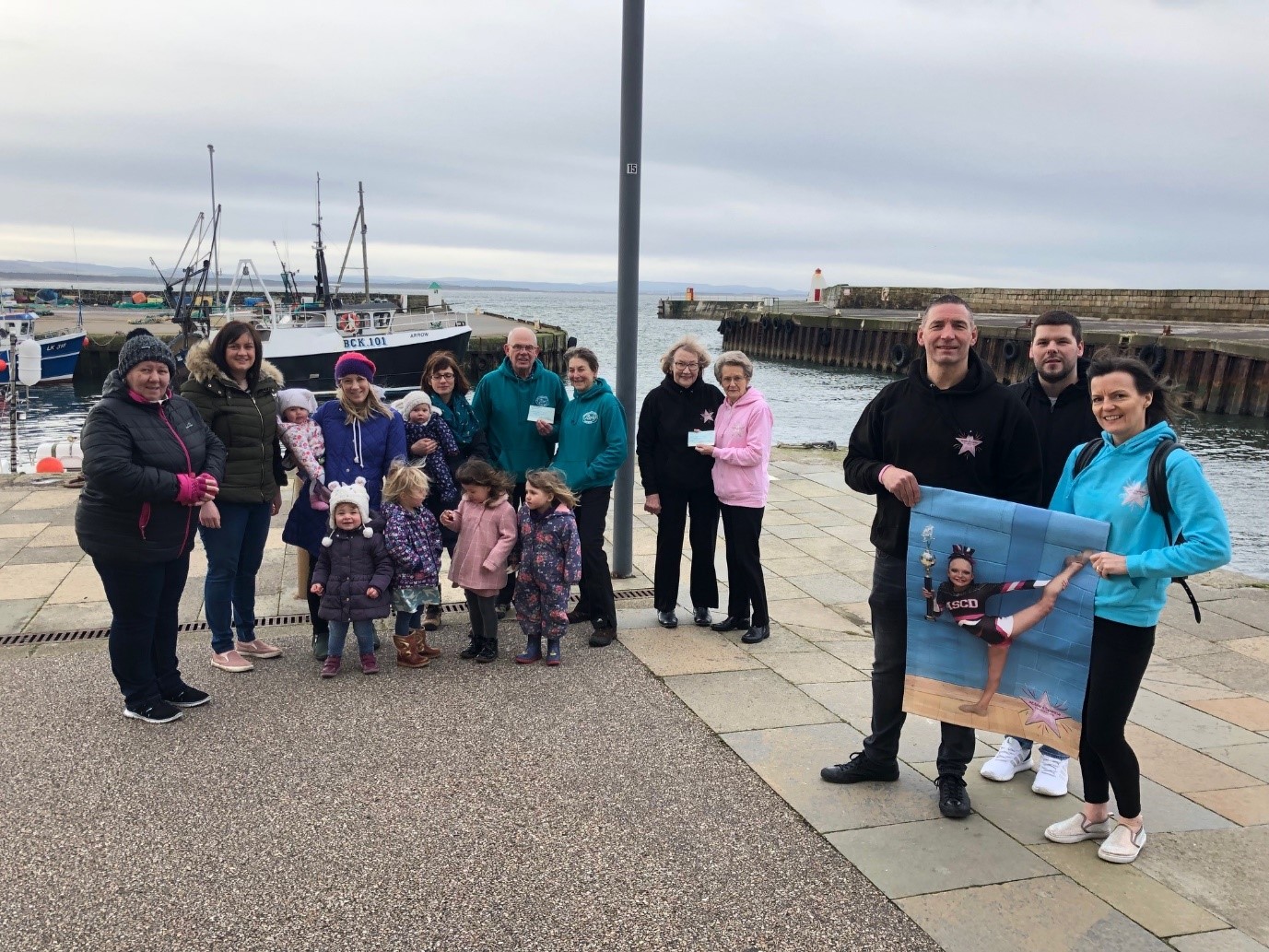 32nd Boxing Day Swim
We were delighted with the response to the 2017 swim, 66 swimmers and hundreds of spectators made it a huge success. Well done to all those who took the plunge and thank you to everyone who donated money and raffles. A big surprise was how much we raised on the raffles alone, over £700. We are delighted to announce that the 2017 swim raised:
£9500
Thank you to all those who helped raise this fantastic amount, we decided to split the money as follows:
Bairns of Burghead Primary - £3000
Prostate Scotland - £2500
Moray Fresh Start - £2000
Moray Sea School Memorial - £2000
31st Boxing Day Swim
31st January 2016
The swim for the first time in it's history had to be postponed due to the severe weather conditons. Winds gusting at 60mph, hailstones and heavy rain showers made the harbour too dangerous for the swim to be held for everybody involved.
However, it was decided to re-arrange the swim for the 31st and the swim went ahead then as scheduled. Despite a poorer than expected turnout of both specators and swimmers, enthusiasm was high and the swimmers were piped down to the pier by Elgin and District Pipe Band, some of whom were jumping themselves. 42 Swimmers jumped including our President Jamie, who had no idea and had been set up to do it by Sharyn our Secretary and announced by Dan!
The final total was £7500, well done and thank you to all involved

Logans Fund: £3000
Ladybird Development Group: £2000
Elgin and District Pipe Band: £1500
Burghead Community Hall: £1000
30th ANNIVERSARY
BOXING DAY SWIM 2015 NOMINATED CHARITIES
Buckie Lifeboat
MacMillan Cancer Nurses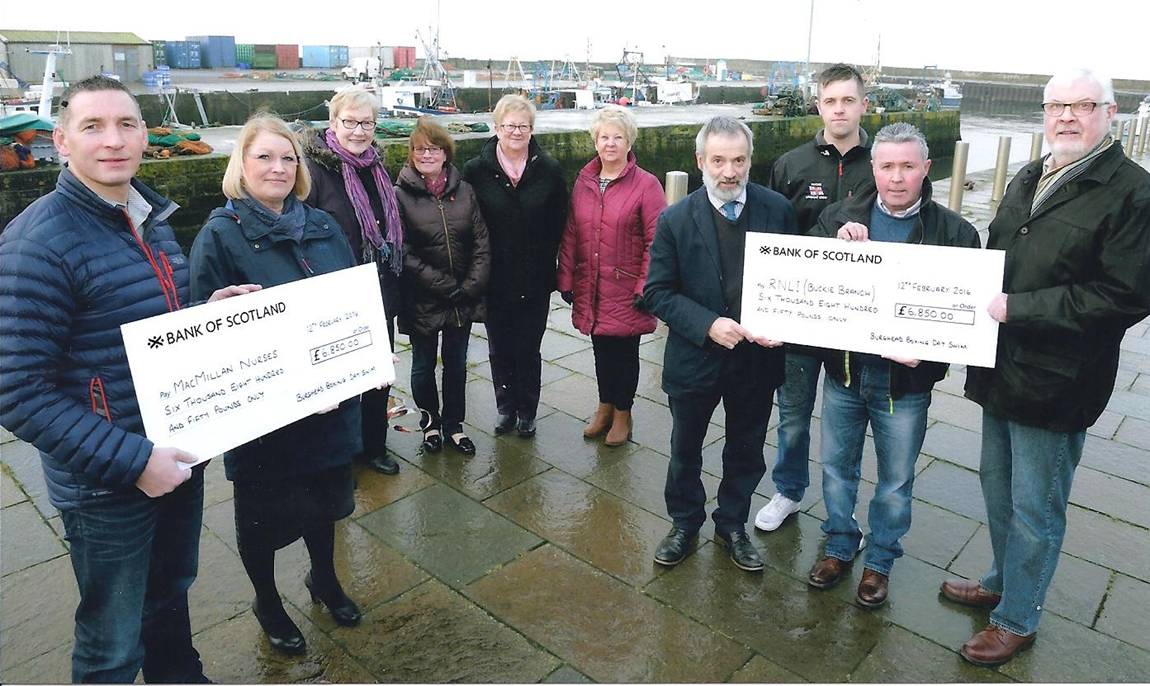 The money from the swim has been divided and presentation of cheques given to charities as follows:
Buckie Lifeboat £6850
MacMillan Cancer Nurses £6850
2014 BURGHEAD BOXING DAY SWIM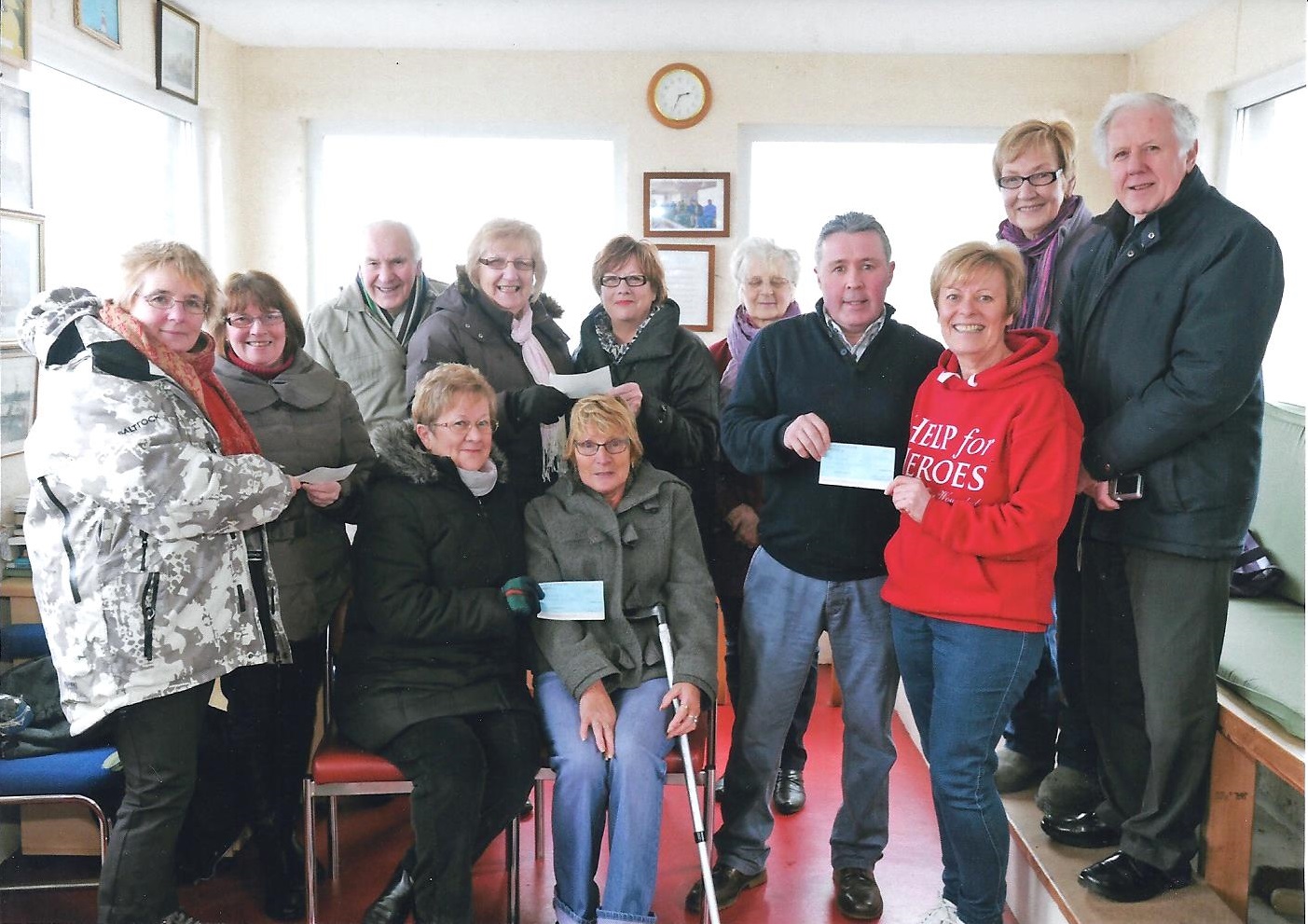 The money from the swim has been divided and presentation of cheques given to charities as follows:
Bughead Amenities £1200
Help for Heroes £8400
MS Friendship Fund £1200
Crossreach £1200
2013 BURGHEAD BOXING DAY SWIM
The money from the swim has been divided and presentation of cheques given to charities as follows:
Archie Foundation £ 18,000 + £ 3,653,53p on Just Giving web site making a total of £ 21,653.53
Clan and Maggie's both received £ 6,000.
There is still money coming in and the perceived total is £ 35,109.56p. There will be a further distribution of money later in the year.
This amount of money is such an achievement, don't think anyone ever imagined all those years ago that we would have 200 swimmers and be enabled to donate so much towards these fantastic charities. Our 28th swim has completely broken any previous records by a long way.
Special thanks to Calum McDougall for coming forward as the 200th swimmer and a big cheer for Russell Main for raising the tremendous amount of £ 4,583.
All this was made possible by the enthusiasm of the swimmers, their fantastic efforts in getting their sponsor sheets filled with such amazing amounts. The generosity of all the people who sponsored the swimmers and filled the buckets with over £ 2000 at the Harbour and all who freely contributed to the raffle has enabled us to help with provision of the much needed Archie Children's Ward in Dr Gray's Hospital and also provide funding for Clan and Maggie's to enhance their sterling work in supporting clients and their families.
On behalf of the Boxing day Swim Committee would like to say well done to everyone who took part and helped in any way . We are very proud of you all.
Hope to see you next swim.
2012 BURGHEAD BOXING DAY SWIM
Money raised for 2012 swim amounted to
£6,500
Distribution as follows
Moray Inshore Rescue
£4000

Moray Woman's Aid
£1,500

Headland Trust
£1000
We would wish to thank all those who participated in swim and everyone who gave so generously donated to the charities .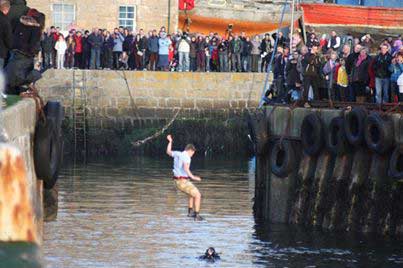 Also thanks to all those who helped in so many ways to make this all possible.
2012 - Main Charity MIRO The Moray Inshore Rescue Organisation (MIRO)
We will be making a donation to two other charities.
MORAY WOMANS AID
HEADLAND TRUST
The money raised this year 2012 was split between: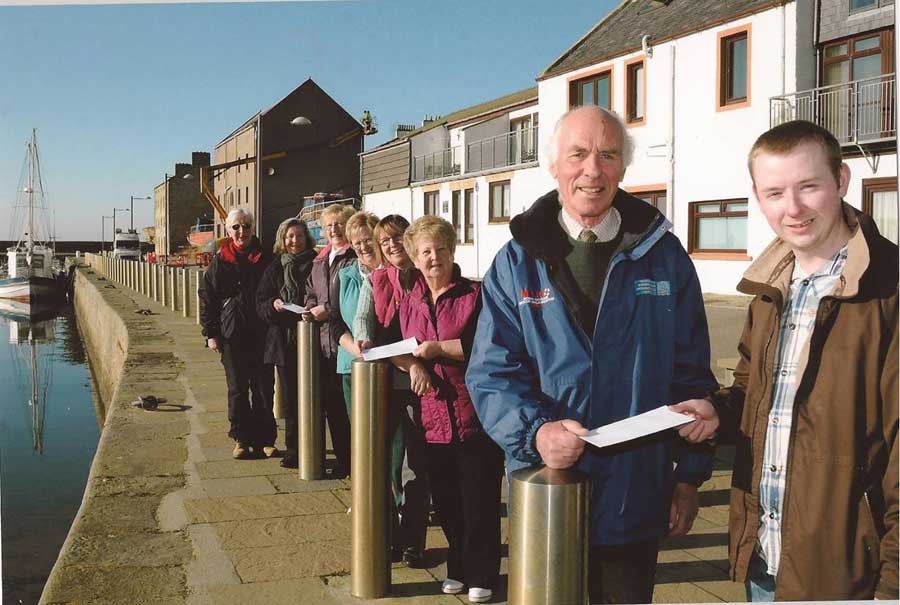 Marie Curie Cancer Care Moray Branch - £4500
Ladybird Development Group, Lossiemouth - £2500
Burghead Community Hall - £1,000
The Burghead Boxing Day Swim has raised thousands of pounds for numerous charities, throughout its 25 year history.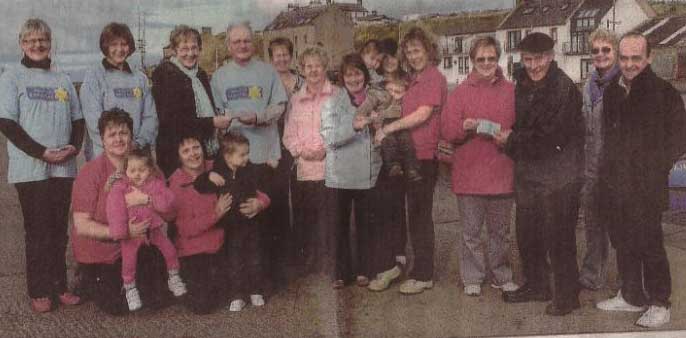 The wonderful ladies with their buckets, who do a fantastic job collecting money on the day.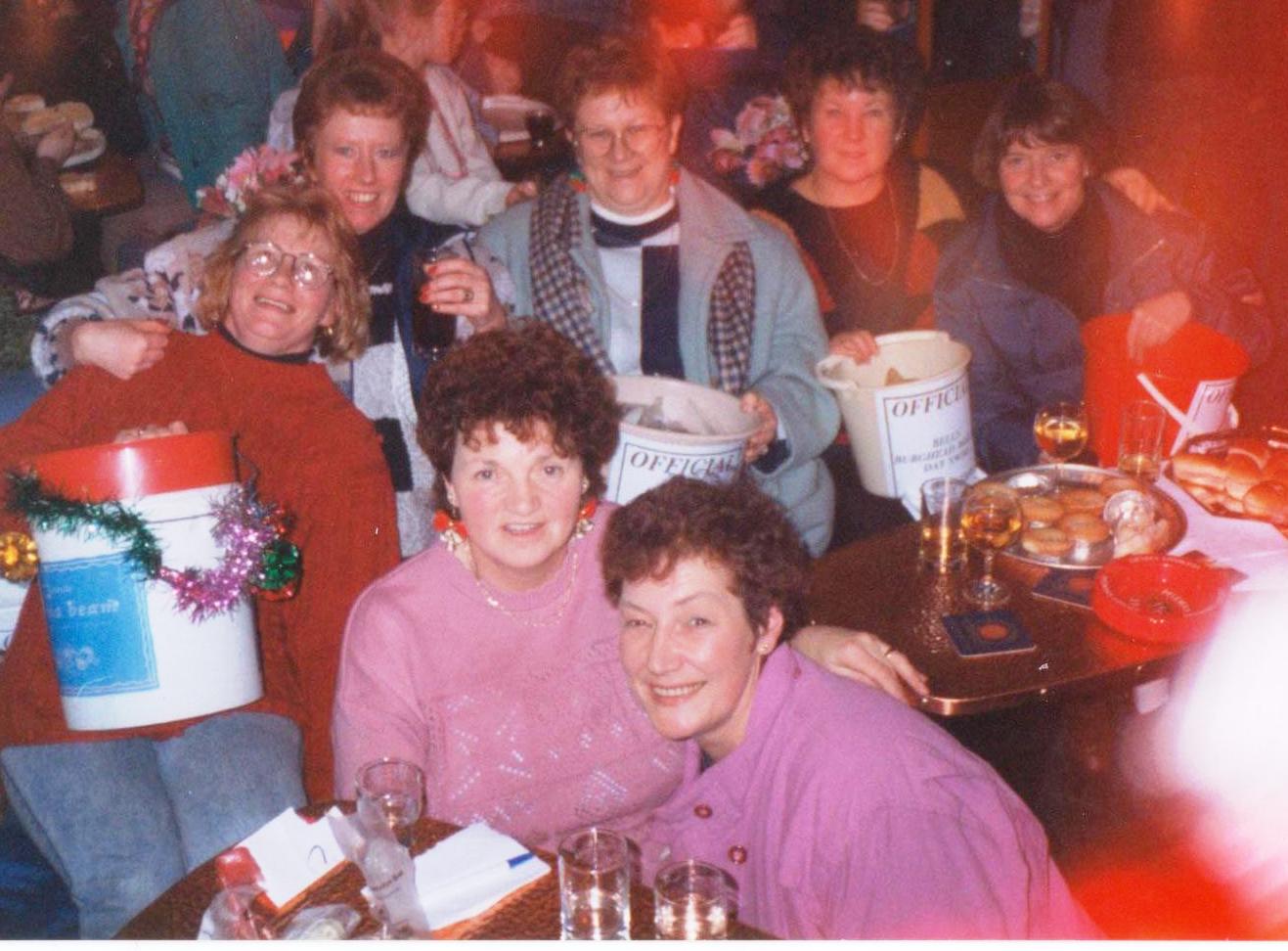 Nice picture, any one know which year?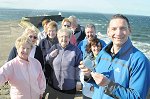 Russel Main being presented with a quaich for completing his 25th boxing day swim
Swim Previous Years
1986: A crowd of around 300 spectators gathered to witness, 10 Hardy souls brave the harsh conditions and take the plunge into the icy waters at Burghead Harbour. £1000 pounds in sponsor money and donations proceeds to the RNLI.
Lawrence Fraser, Colin Fraser, Steven Jones, Calum MacDougall, Ewan Main, Stewart Lyons, Leslie Crawford, Russell Main, Ian Cameron and Sandy McPherson.
First swim picture from 1986.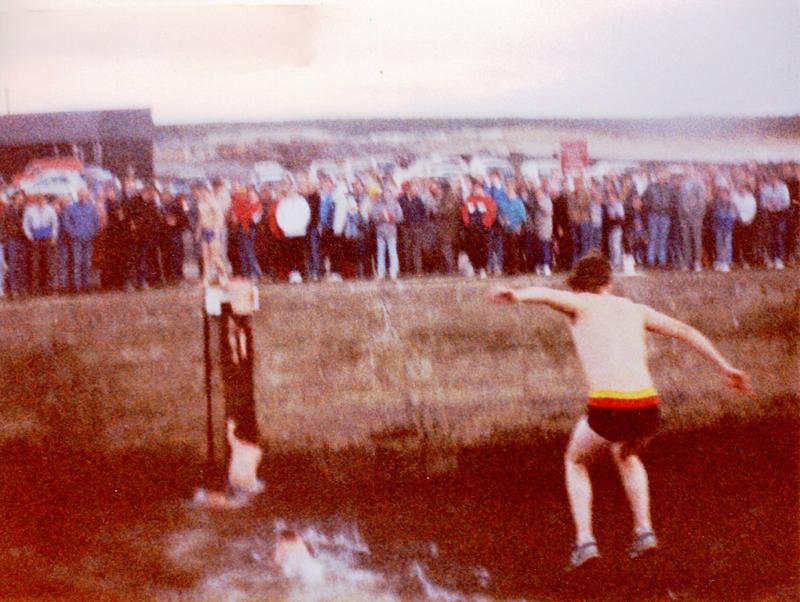 Boots taking the plunge, last to jump in.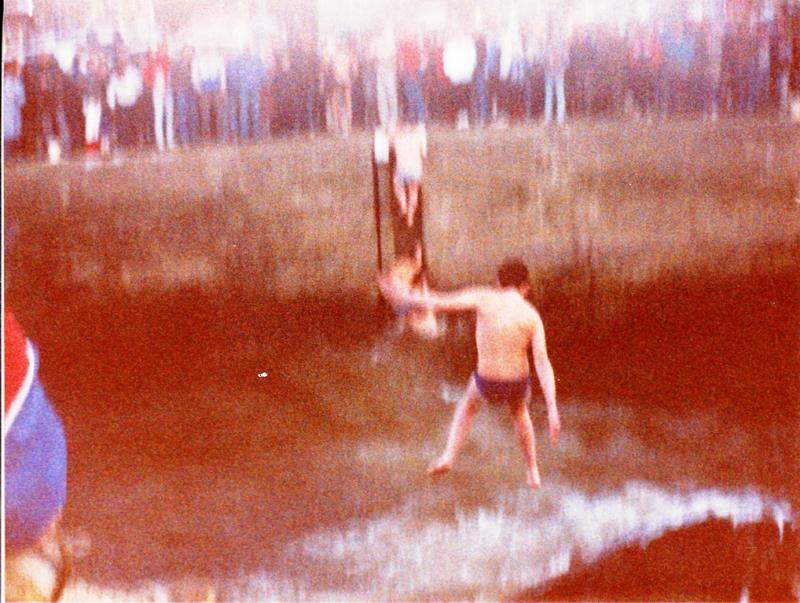 Ewan Main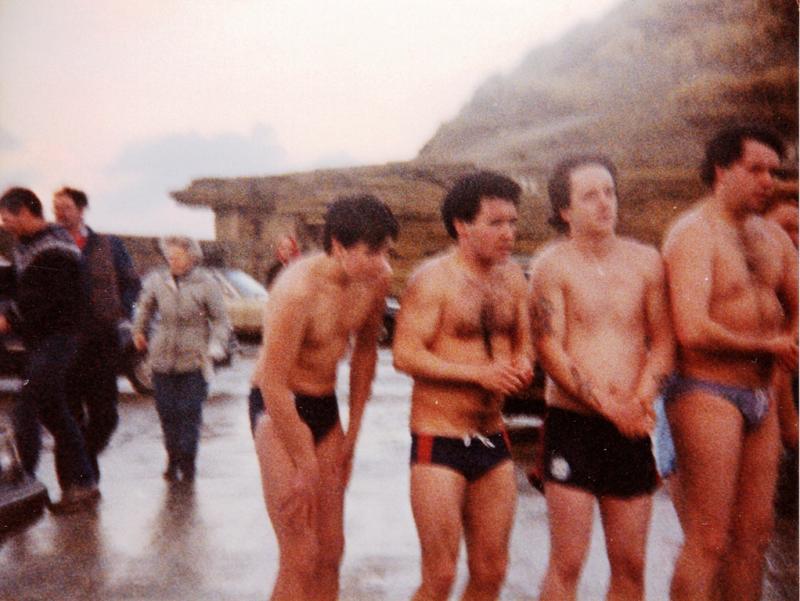 Nice speedo's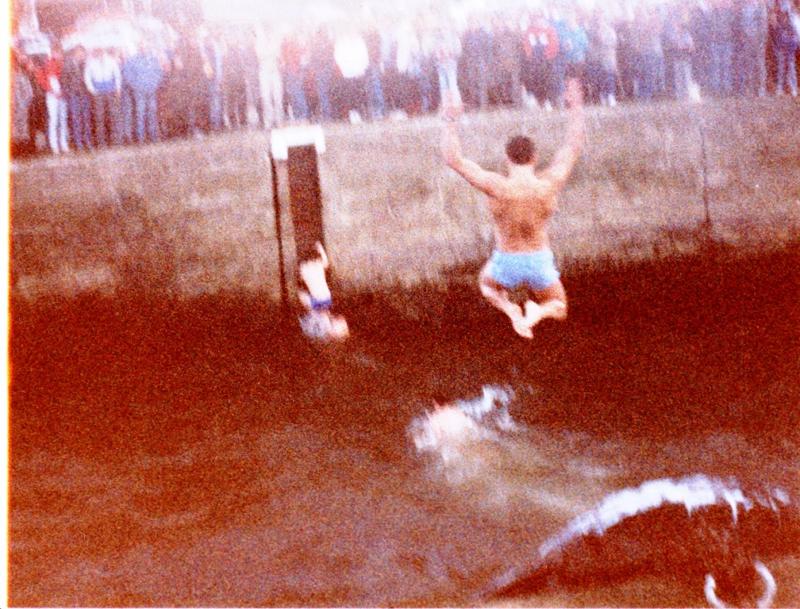 Russell Main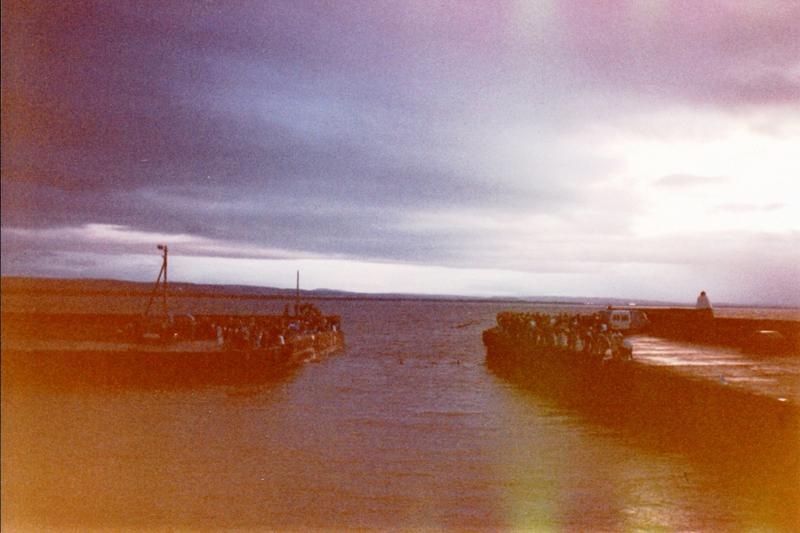 The crowd at the first swim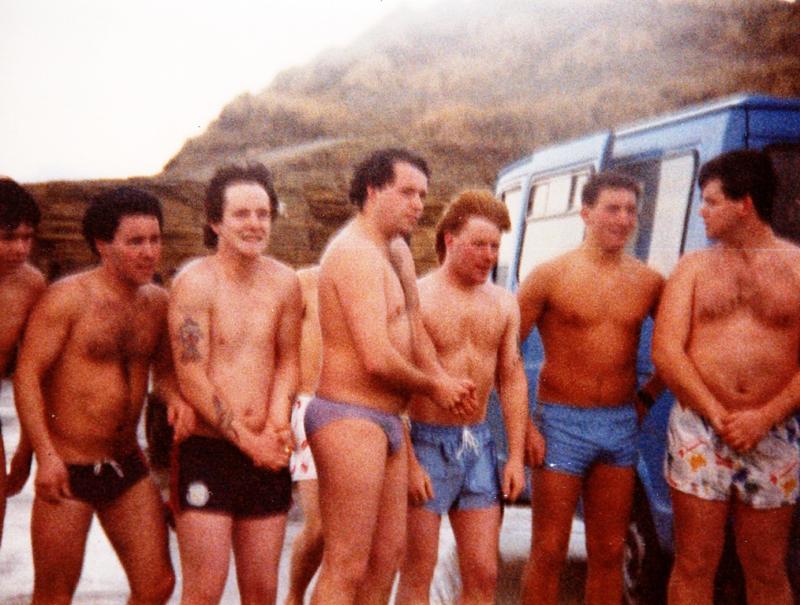 Very cold
Boxing day swim
1987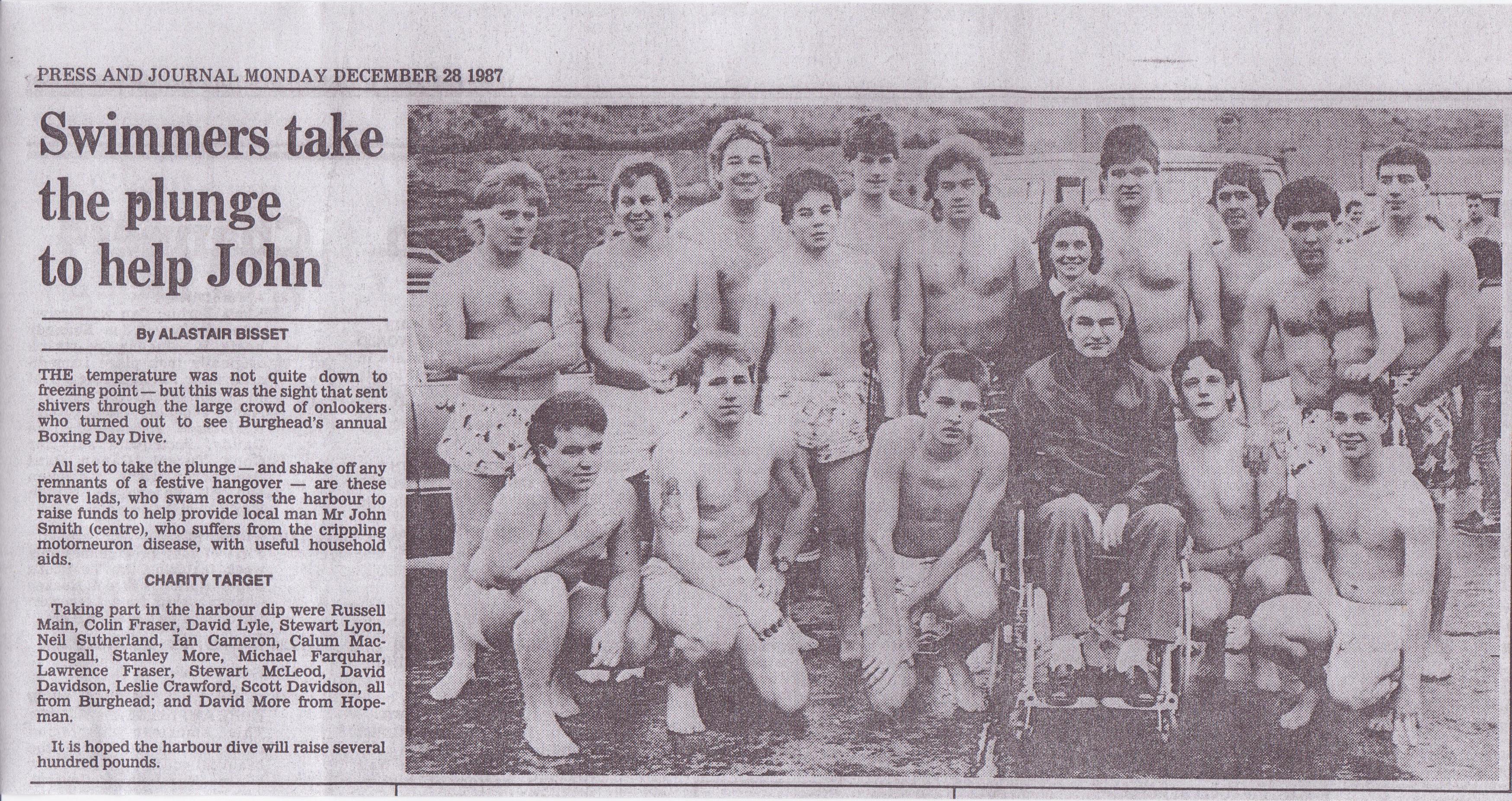 Community Fundraising Manager
North of Scotland
Room 9, Volunteering Highland
The Gateway, 1a, Millburn Road
Inverness, IV2 3PX
Tel. No. 01463 713080
Mobile. 078 891 19147
Email. peter.logie@clicsargent.org.uk
26 March 2010
Dear Russell
It was good to catch up with you and some of the committee in Burghead on Tuesday and of course to receive a cheque for such a magnificent amount. Please pass my thanks on to your committee on behalf of CLIC Sargent for nominating the Charity as main beneficiary in 2009 and congratulate them on such a successful event.
2009 was a tough year for fundraising for us and many charities of course and to have such a sum come in to the north east helped significantly for us to get close to the level we need to support the services we provide to families along the Moray Firth.
Peter Logie, Community Fundraising Manager, Highlands & Islands and Moray commented, "What a great day and a fantastic event. When I had met Russell months before, he had said that a really cold bright day was the best type for the event and he certainly got that. I've never worn a T shirt in -3c before next to someone wearing a Mexican hat….quite an experience, as was jumping into the icy waters in the harbour!
The sum CLIC Sargent received from this event was magnificent and I would like to thank all the brave jumpers who worked so hard in raising such an amount. I would also like to congratulate the organisers on staging another very successful event.
This level of income enables us to do all of the following:
Provide 3 families with a week's holiday at Malcolm Sargent House. This could be a family whose child is still going through treatment and who have had no relaxing or fun time together through a gruelling period of treatment and trips to hospital or it might be a family that have lost a child. A break allows them to spend time together with other bereaved families. Talking to people who understand in a supportive, sensitive environment can provide real comfort.
Put up a family in one of our "homes from home" right next to the hospital where their child is being treated for three months. This could well be in Glasgow, a long way from home and when the child is well enough during treatment, they can stay there too.
Fund a social worker for a month (we have one in Aberdeen and Inverness). Our social workers help the whole family, including siblings and grandparents to understand and cope with the emotional, practical and financial affects of cancer from the very moment their child is diagnosed.
Supply a community support grant to a family. These help families meet the cost of any extra support they might need to maintain normal life, like childcare, home help, ironing, shopping and so on. This allows parents to spend more time at hospital with their ill child.
I know that you change charities quite often but in your 25th year (what an achievement!) if you were able to support CLIC Sargent in any way again, it would be really appreciated and as always, if you would like me to provide any further information about our work, I would be more than happy to do so.
The development of a website sounds like an excellent idea and I attach a piece for you to use at the appropriate time. I will also email it to you so that it can be copied and pasted.
Kind regards
Peter Logie
Community Fundraising Manager